Podcast: Play in new window | Download (48.8MB) | Embed
Subscribe or Follow Google Podcasts | Spotify | Android | Pandora | iHeartRadio | Stitcher | TuneIn | Deezer | RSS | More
Joakim (Kim) Wijkstrom, SVP / CMO of Vanda Pharmaceuticals, has learned to "Think Different" and have "Lending Done Human." He has sent little, teeny Absolut bottle-shaped Christmas sweaters to readers of the New York Times, and leveraged Andy Warhol style pop op to promote schizophrenia drugs. A Swede who grew up in West Africa, Kim also opened the Latin America markets for two TBWA\Chiat\Day clients. If that sounds like the start of a good story, then that's the point.
Because for this marketer it always starts with the story, not the silver bullets.
Kim has developed a "cultural curiosity" from both moving around and a liberal arts degree, which has been a big asset in his marketing career: "I think advertising lends itself naturally to someone who is interested in how we shape and creatively express our worldview, how we understand the things around us, how perceptions are shaped. So, I think it made sense for me to land there. But as it turns out, I'm half a humanist, half of something more analytical. Perhaps I was never going to be the next Leonardo…[but] you figure out the way to take whatever you're equipped with and put it to use where it is best applied."
This attitude is also encompassed in his top performing article in The Continuum, the publication I edit about "brand and demand" marketing. In that, and in this follow-up conversation about the origins of his branding philosophy, Kim sticks with the story that brand always must start with the story! The delivery tactics — what he has called the silver bullets – are secondary.
But when you're talking to a storyteller you cover a lot of ground. We also discuss:
How movies are an analogy for Kim's point of view about storytelling first
Why our obsession with technological solutions to everything don't drive brand loyalty ("You can now have your car tell you that you're low on milk because your smart refrigerator is coupled with your car, and so forth. But are you going to buy the refrigerator based on that? Do you think it's a quality refrigerator?")
Why too much emphasis on bells and whistles and focus on demand or performance-driven marketing "offends" him ("Fundamentally, all marketing is for performance purposes… to grow your market share. You need to start with what is it you're trying to say and why would it be compelling to people, as opposed to just being the method by which you can deliver the message.")
Why even DTC companies' product is often the story… such as Warby Parker's design
How our obsession with metrics and attribution is not wrong but often misses the point entirely, focused on the ROI, as opposed to just "can you see if it's working?" ("If people are talking about your TV spot or have a positive reaction to it somehow then that's probably more important than any sort of little blip of metrics.")
And, just as he learned from hovering around Steve Jobs, Kim offers advice for junior marketers.
But wait, as they say, there's MORE!…
Kim also explains the story of Vanda, and his move from marketing men's suits (Perry Ellis) or financial services (One Main Financial) to pharma. He gives an example of how the same story (for a particular drug) can be extended into different spaces, like digital to video without having to be, well, prescriptive! (And, yes, we discuss the challenge of pharmaceutical advertising and FDA constrictions. But check out their innovative approach to Fanapt for insider insights on  how it can still be impactful.) And I finally got to understand what's behind drug NAMING!
So, how did Kim finesse his own "brand story" – or POV about storytelling? Well, that starts with a guy named Steve Jobs.
"I was really lucky I got to work on Apple when it came back to TBWA\Chiat\Day … and that was the launch of the now-iconic Apple campaign "Think Different." I was a junior person then, so I'm not claiming any credit for the campaign…but what was amazing was encountering Steve Jobs and seeing the process by which that campaign came about. That was a ton of learnings about what actually really matters. He couldn't give a crap about ROI or metrics, frankly. …if people react to it, that's what matters'. And Apple sells a lot of product. So, it's not like the brand doesn't work in selling or performance."
Kim shares the three-point "a-ha" takeaways he got from Jobs. And that, my friends, is how you do a cliffhanger.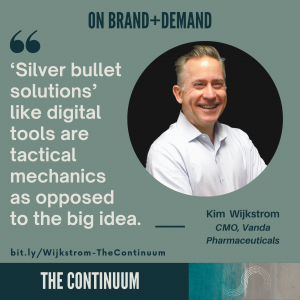 So, I hope you'll listen to the full conversation with Kim Wijkstrom. And if his learnings from Apple aren't enough, wait til you hear what he says marketing an odorless, tasteless product: vodka. Or, how an MRI machine proves out his belief that the brand is what drives ROI.
Okay, okay, I'll also share that he says when you DO add in those tactics for delivering the brand story, he's still a believer in different forms of direct marketing.
 … [But] to me, the point of a brand in the mix is it's going to amplify your ability to get pull through on those tactical pieces. Because if people receive something in the mail, whether email or online, it's really easy, of course, to dismiss it and throw it out. If you have a brand, it's not as easy. They may actually open it. So, it basically primes demand. That's what a brand does."
I hope you'll get some good insider scoop from this episode of Insider Interviews with me, E. B. Moss, and I hope you'll follow Insider Interviews on Twitter, Facebook, Instagram. And let me know if you have a question or suggestion for our next guest. My theme music was composed and performed by the incomparable and Grammy-winning John Clayton.
Thanks again for listening.