Podcast: Play in new window | Download (Duration: 3:19 — 3.0MB) | Embed
"Insider Interviews with E.B. Moss" offers the insider's view of the Media, Marketing, Advertising and Entertainment industry from CEOs to CMOs, ad agency heads to brand marketers, who share business insights with a personal touch.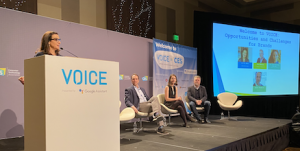 These compelling conversations with leaders in the business of creating television, research, audio and more, inform AND entertain, thanks to expert host, E.B. Moss, who has been a content and marketing executive at companies like Food, Lifetime, E!, Westwood One and MediaVillage and is the Editor of marketing publication, The Continuum.
Subscribe wherever you love to listen!  New episodes are posted on Thursdays twice a month, and long-form companion articles to each podcast are on the Episodes page, and frequently published on TheCustomer.Net.  Please find Insider Interviews on Twitter, Facebook and Instagram, too!
Ask about complete multi-platform content marketing packages for your company! podcasts@mossappeal.com.