Podcast: Play in new window | Download (Duration: 54:48 — 75.7MB) | Embed
Subscribe or Follow Google Podcasts | Spotify | Android | Pandora | iHeartRadio | Stitcher | TuneIn | Deezer | RSS | More
A "holistic" approach sounds so virtuous – in a yoga pose kind of way. And when it's applied to the business of podcasting it takes on an even healthier stance. Three wise guests explained exactly what it takes to approach podcasting as a unique medium and leverage all aspects of it to drive growth. In this episode of Insider Interviews I spoke with three phenomenal experts during the Podcast Movement conference in Denver who explained this holistic approach.
Bryan Barletta and partner and research guru Tom Webster have been making waves in the audio industry with their advisory services focused on growing audience and revenue for podcasters. (You heard me speak with Bryan Barletta on Insider Interviews three years ago and with Tom when he was at Edison Research.)
Bryan described his aim to carve out a home for all podcast pros, to educate and elevate the industry. He emphasized that podcasting deserves to be treated as its own channel, optimized based on how people listen. "We're entering the 'why' phase: 'Why uniquely podcasting? Why start here?'," he posited. The answer?
"The ad tech, the mindset, the education is now here. And that's why we need to treat it as its own channel and not try and tag it onto other channels to find its own value."
Bryan expects now, at 20 years in, we're finally entering the "2.0 era" where ad tech and mindsets are catching up to podcasting's distinct value.
How can we look at measurement objectively? What is the truth behind "churn"?
Bryan describes the biggest opportunities and challenges in the business of podcasting, including the status of programmatic.
Then, in an unexpected question tossed at me, we discuss the opportunity for political ad messaging in podcasting….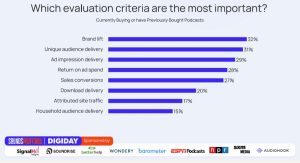 Paul Riismandel, Chief Insights Officer of Signal Hill Insights
Paul Riismandel joined the founder of Signal Hill Insights, Jeff Vidler, last year in the appropriately named role of Chief Insights Officer. The growing company is an audio-focused research firm that provides custom insights for publishers, broadcasters, and advertisers.
Paul was very vocal about holistic campaign measurement — versus siloed or, say, just performance-driven approaches — that looks across placements, platforms, and creative together to "really have an apples to apples comparison."
Their bread and butter is brand lift studies – the positive changes that can be attributed to ad exposure. Those studies help spotlight factors like creative and planning to better uncover why a campaign succeeds or stumbles…and matches that with insights around perception and elements like awareness, favorability, consideration, and purchase intent.
He also highlighted the key role of creative and its absolute impact on brand lift.
Advertisers can easily make assumptions when an ad performed well – or not – in a particular show. It could, Paul notes, perform differently across different podcast genres. Or it could be the creative, if one host or one message just didn't resonate. Test. Rinse, Repeat!
Ken Lagana, EVP of Digital Sales at Audacy
Ken Lagana brings the perspective of a multi-platform warrior. After years in digial media, he spent most of the last decade heading up sales for all things audio at content and entertainment company, Audacy – which has production expertise via their Cadence13 and Pineapple Street Studios divisions, extensive OTA (over the air) stations, digital audio and  events and, of course, podcast distribution and monetization.
As such, it's not surprising that Audacy is "platform agnostic" and Ken's definition of "holistic audio" means including both radio and podcasting. But advertisers don't have to stop there: Hear Ken's description of the "triangle" of audio campaigns, starting with influential host-reads at the top! (Stay tuned for an Audacy-produced scripted podcast with Amy Poehler as "Dr. Sheila", which incorporates an actual grocery brand into the narrative and across platforms, as a good example!)
Ken believes a tailored approach to audio remains crucial – from custom content creation through branded episodes, and host reads.
Advertisers can be confident about brand safety and leverage contextual targeting
Attention has become a currency (aCPM), thanks to a dentsu study that showed podcasts command more attention than other digital.
TIME STAMPS
[00:01:30] Sounds Profitable's advisory services.
[00:02:23] Creating a home at Podcast Movement and providing resources for podcasters.
[00:08:48] Podcast research on perceptions and churn.
[00:10:55] Why uniquely podcasting?
[00:14:30] Programmatic audio in podcasting.
[00:18:14] Political advertising in podcasting.
[00:23:28] Signal Hill Insights on holistic campaign measurement.
[00:24:32] Understanding your target audience
[00:28:22] Brand lift via creative customization.
[00:29:03] Brand lift measurement
[00:32:53] The evolution of podcast ads.
[00:33:57] "It's the creative, stupid"
[00:40:06] Audacy's Ken Lagana on the evolution of digital audio.
[00:41:17] Holistic approach to audio…
[00:43:16] …and to advertising.
[00:48:18] "Pay attention to attention metrics".
[00:49:52] Getting your late night fix despite the strike
[00:52:33] A cool Audacy approach to a podcast sponsorship.
[00:54:31] Buy E.B. a Coffee??
Resources/Social:
You can help sustain this podcast with a little donation to Insider Interviews at https://buymeacoffee.com/mossappeal
Connect with Insider Interviews:
Instagram: https://www.instagram.com/insiderinterviews
Facebook: https://www.facebook.com/InsiderInterviewsPodcast/
YouTube: https://bit.ly/InsiderInterviews-YouTubePlaylist
LinkedIn: https://www.linkedin.com/in/mossappeal
"X": https://www.twitter.com/insiderintervws
(And find E.B. on Threads as @mossappeal)