Podcast: Play in new window | Download (Duration: 38:14 — 26.2MB) | Embed
Subscribe or Follow Google Podcasts | Spotify | Android | Pandora | iHeartRadio | Stitcher | TuneIn | Deezer | RSS | More
The world of comic books and graphic novels is serious fun. Meaning, both serious and fun. From a serious shift in the revenue model as paper product has gone digital and the edutainment factor of non-fiction hand-drawn histories, to the wildly wicked fantasies spawned by Barbarella type heroines to fictionalized lives of heroes among us.  Darren G. Davis, president of one of the leading producers of both the serious and the fun books, TidalWave Productions, made a spontaneous appearance for Episode 8 of Insider Interviews with E.B. Moss – who was actually his former boss at the start of his career in entertainment, and now counts herself as a friend to the seriously funny founder!
In an office surrounded by framed super heroes, acquired during his days at DC Comics, and signed comic book covers from his biographical spins on everyone from Hillary Clinton to Barbara Walters, Davis both reminisced about our days at E! and his path forward from there, dished the dirt, and shared breaking news of stranger than fiction comics to come. Hint: Thought you'd heard the last of Stormy Daniels?….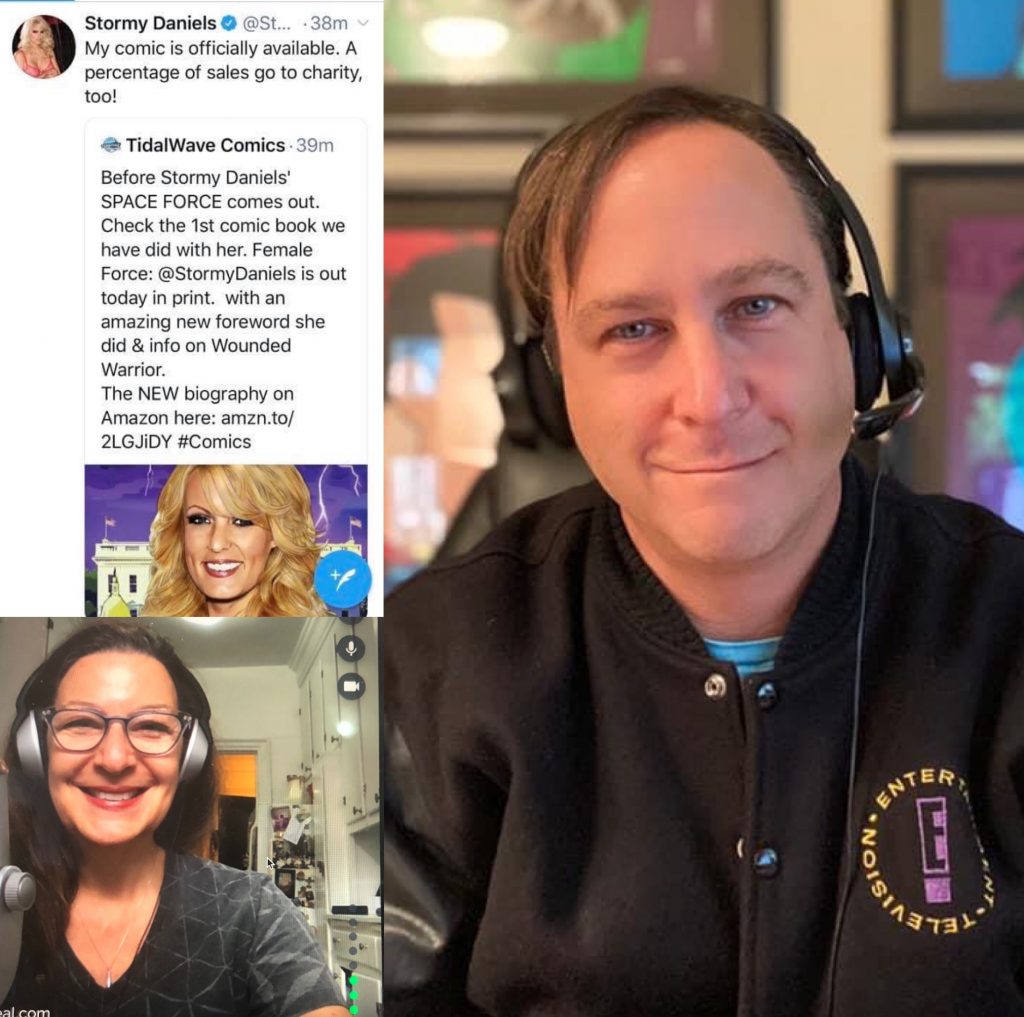 Davis described the evolution of some of the iconic titles he's created or developed over the past 20 years, including the top-selling "10th Muse" for Image Comics, and the niche he carved out in the fiction world via successful collaborations with iconic larger than life real characters ranging from William Shatner (Star Trek) and Adam West (Batman), to Vincent Price, William Nolan (Logan's Run), Roger Corman, and now even the infamous Tiger King!
Listen for some of these moments, but it's a breezy 35-minutes and you'll want to hear all the fairly unfiltered anecdotes of this side of the content business:
03:45 Leveraging an E! internship to a network ad sales career to marketing "B" movies (including his first encounter with Leprechaun the movie, which made its way years later into a comic book) to repping artists — and how it all came together to create a new career;
08:00: From the muse of Olivia Newton John to learning to love the WWF
09:30: The difference between a comic book and a graphic novel
:11:40: Phone messages from Batman and making misadventures for Adam West
13:00: How Julie Newmar ended up back in time as Catwoman meets super-secret spy
15:25: How to wear multiple hats and learn to pivot as a manager
17:10: How to calm the tempest of Stormy Daniels' angry manager (or lawyer) and wind up as friends – and business partners
20:25: Turing women ranging from Condoleezza, and Sarah to Hillary and Stormy into a female force series (Hint: listen here for the breaking news!) to showcase the positivity in what they've accomplished – and the inspiration for it from the master, Stan Lee;
23:15: The origins and value of comic books as educational – and taking a non-partisan stance, even when drawing on Obama to Bush;
27:25: How Nook and Google and other platforms fill in the pages of lost print ads
29:00: A not so serious discussion of fantasy super powers
30:20 A serious discussion of celebrations and creations during COVID times
33:00: The evolution of a "best worst idea"… twice
And…best ending ever? Davis pays tribute to Moss as SuperMentor.
PS: You heard this here first, too: He promises to put me in a comic some day!