Podcast: Play in new window | Download (Duration: 34:03 — 46.8MB) | Embed
Subscribe or Follow Google Podcasts | Spotify | Android | Pandora | iHeartRadio | Stitcher | TuneIn | Deezer | RSS | More
As we crave connection during these isolating times, Sree Sreenivasan has stepped up to bring people around the world together, sometimes several times a day. While almost 80 straight days in a row of recording his Global COVID-19 show drove his family to furlough him from his own home during livestreaming hours, this social and digital media expert, known by many as "@Sree", has an expanded family of connections that faithfully gather round for a dose of positivity.
And every Sunday, they tune-in again for his New York Times "readalong," now five years running, with his own scintillating and scholarly guests perusing the paper and op-eds alongside him. So, that's 80 days in a row and literally twice on Sunday. Did I mention his 21 years of conducting Social Media Weekend gatherings to educate on the latest tools and tactics? How about his frequent appearances on radio, or CNBC as a tech-expert?
Hear why this the former chief digital officer for The Metropolitan Museum of Art is now focused on the art of generous content both altruistically and, candidly, as a business development vehicle for his digital marketing and virtual event business. Less generous, perhaps, in his opinion of social ISSUES, Sree's stories – from adjusting to new countries and his quirky love of comic strip Calvin and Hobbes to how he adopted new communication tactics to connect people through every crisis of the past two decades – are equally passionate. The throughline is also his ardent belief in journalistic integrity, veracity and humanism.
We joke about how his livestreams and social sharing are the perfect outlet for a man who likes to talk, but with Sree, people want to listen. He's learned the art of that, too.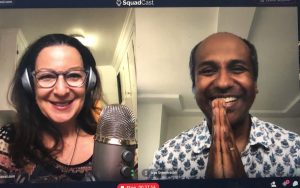 Listen to the inaugural Marshall Loeb visiting professor at Stonybrook University, and former Columbia University journalism professor,  Sree Sreenivasan, and you'll hear why.
We also discuss:
His humble and sometimes humiliating path to acculturating to America
The evolution and promise of his Global COVID-19 Show
How reading the New York Times out loud on Facebook Live become bigger than he could have imagined
How he competes with – or defers to his wife, Roopa
How that love for Calvin and Hobbes has played a role in his life