Podcast: Play in new window | Download (Duration: 37:47 — 52.4MB) | Embed
Subscribe or Follow Google Podcasts | Spotify | Android | Pandora | iHeartRadio | Stitcher | TuneIn | Deezer | RSS | More
Pierre Bouvard has some words of wisdom for media buyers out there…if you're not buying audio (yes, all audio), you're leaving reach and engagement on the table. As Chief Insights Officer at Cumulus Media/Westwood One, Pierre has seen the proof and has busted the myths surrounding audio advertising—and particularly the misconceptions about AM/FM radio.
"Radio is perceived as much smaller than it really is. But the data tells us that ad-supported AM-FM streaming is actually bigger than ad-supported Pandora and Spotify combined. That blows people away."
After stints at Coleman Insights and TiVo, he has become the audio industry's most revered evangelist and research mind. Now leading Westwood One's full-service advisory—the Audio Active Group—he provides advertisers with media planning recommendations, creative best practices, and measurement services.
This episode will certainly delight the research aficionados—and may just convince the audio skeptics. We also dig into:
What we mean when we say 'audio.' Pierre breaks down the composition of the entire audio universe.

Tactical scoop about media planning tactics and why an omnichannel approach works best.

What the heck is 'eyes on glass' and what does it tell us about the effectiveness of TV?

Pierre's pragmatic POV on brand purpose reminds brands to go back to basics.

While he does a lot of work recommending media, he drops some facts on why creative trumps everything.

Why it's time for advertisers to stop testing and start committing budgets to podcast advertising. (Learn about the "5% rule"!)
Plus, hear the story of how Pierre 'broke the internet' and E.B.'s voice impression of Bette Midler… Just sayin'.
This was a fun (and extremely informative) conversation. I hope this inspires you to learn more about the power of audio advertising.
Mentioned in this episode: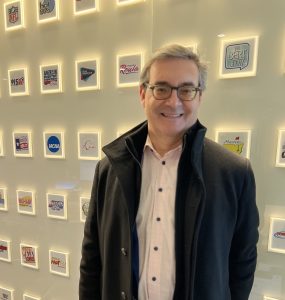 Dig into these findings on sonic branding
Check out the Audio Active blog from Westwood One
Learn more about Edison's Share of Ear. 
Find Pierre on LinkedIn and on Twitter
Follow Insider Interviews and Moss Appeal on:
Twitter: @insiderintervws and @mossappeal 
IG: @insiderinterviews and @mossappeal  
FB:  InsiderInterviewsPodcast
and PINTEREST because, yes, it's a thing!
LinkedIn: https://linkedin.com/in/mossappeal  
Hat tip to Annie Hunt for great show notes and social media support!
And, please support this free podcast Insider Interviews at buymeacoffee.com/mossappeal