Podcast: Play in new window | Download (Duration: 34:46 — 48.2MB) | Embed
Subscribe or Follow Google Podcasts | Spotify | Android | Pandora | iHeartRadio | Stitcher | TuneIn | Deezer | RSS | More
Did you know there's a lot more to Danone than Dannon? Do you know the definition of a B Corp? Oat or Soy… or a new low-sugar non-dairy milk?
Linda Bethea, Head of Marketing for Danone North America—a top 15 Food and Beverage company in the US—gives us the insider's scoop on all of the above and how she markets all TWENTY of Danone's brands. She is shaping the marketing strategy for some of the most loved CPG products in the country—from Danimals to Evian Water and (my personal favorite) Stok Coffee.
Since Danone is the country's LARGEST B Corp (listen and learn!), we explore the role of brand purpose in marketing today. Something that runs deep at Danone, going back half a century when the CEO started the concept of a "Dual Project" where companies care about societal value as much as shareholder value.
Consumers want brands that take a stand and have a strong point of view. Building brands with purpose that positively impact the world is core to everything we do at Danone.
Linda has enjoyed an impressive marketing career across CPG categories, from potato chips to liquor, and now leads a massive team that's moving the Danone name into the future. That means pushing the envelope on product development, navigating the ever-changing marketing landscape, and finding unique brand partnerships that align with the corporate mission… all while continuing to "delight" consumers.
Heads up, there will be a lot of (brand)name-dropping in this episode!
Linda and I get into:
How consumer tastes and trends drive innovation and marketing creativity
Linda's path from soda to spirits to spirited field work that that supercharged her path to leadership and taught her how to negotiate and get things done
Cool ways Danone is raising the sustainability bar, like rescuing fruit and repurposing bottles into shoes…and how those efforts influenced her home life
Her definition of brand purpose and how proper marketing of it impacts consumer choice and company values
What' my on my plate as an ova-lacto-pesce-vegetarian, and is the demand for plant-based foods today just a trend or…?
Why she's bullish on audio when it comes to winning the consumer attention game (this will really resonate when you catch my NEXT podcast interview — with Pierre Bouvard, Head of Research for Cumulus Westwood One!)
How she earned the nickname of The Velvet Hammer…
And…what Linda reads and watches with her 13-year-old daughter that makes her a better parent.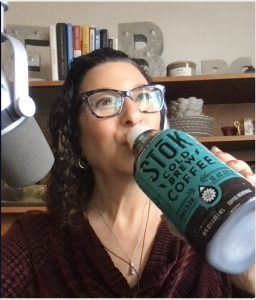 She's smart, and inspiring and mission-driven. Don't miss this conversation with a conscientious consumer marketer and leader.
NOTE: If you'll be at SXSW in March '22, you can find her speaking with me more about the power of audio, thanks to Sounds Profitable. Ask me for deets. podcasts@mossappeal.com
Big scoop!
Read about the impact of dairy and what Danone is doing to reduce methane. And see their new campaign for Silk "NextMilk", designed to inspire the next generation of milk drinkers, but made from plants and with 75% less sugar.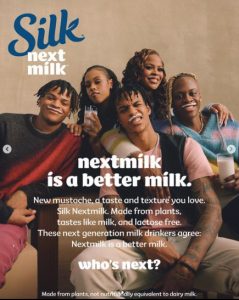 The #whosnext campaign features plant-based enthusiasts such as Brooklyn Beckham, Sailor Brinkley-Cook, and Myles O'Neal donning their best Silk 'stache and inviting others to join them.
Watch the hit Super Bowl spot from Oikos
Listen to the Insider Interviews episode about Sustainable Brands, with founder KoAnn Skrzyniarz
Learn about B corp certification
Check out The Female Quotient — and get your OWN velvet hammer or mini microphone charm: https://www.thefemalequotient.com/
Social:
Connect with Linda on LinkedIn: https://www.linkedin.com/in/linda-bethea-12b7a1
Follow Danone: https://www.instagram.com/danonenorthamerica/
Follow Insider Interviews and E.B. Moss:
Twitter: @insiderintervws and @mossappeal 
IG: @insiderinterviews and @mossappeal  
FB:  InsiderInterviewsPodcast
and
PINTEREST because, yes, it's a thing 
LinkedIn: https://linkedin.com/in/mossappeal