Podcast: Play in new window | Download (Duration: 30:02 — 20.6MB) | Embed
Subscribe or Follow Google Podcasts | Spotify | Android | Pandora | iHeartRadio | Stitcher | TuneIn | Deezer | RSS | More
Ironically, at a time when we cannot physically touch, adding a human touch is more essential than ever — especially at work, even while we WFH. I turned to Erica Keswin, a "workplace strategist," bestselling author and advisor to major companies aiming to improve performance by improving relationships.
There are plenty of tech stack suggestions for working from home, but once the software or the scanners are set up, how do we tackle the human side of remote work now and pivot in how we communicate?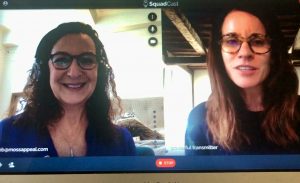 As a deeper dive to her recent webinar with The Female Quotient on some of the tenets of her last book, Bring Your Human to Work, Keswin shared more suggestions that companies can bank on. While her advice spans all industries, frankly everything a brand marketer does in today's COVID-19 environment has to be run through the lens of humanity.
The following time codes are points in the podcast of particular interest:
(2:30) "The definition of being human means honoring relationships — with colleagues, your boss, the people that work for you, your customers."
(4:30) The impact of technology on our relationships – good and bad: "When 'left to our own devices' we're not connecting".
(7:55) Why bringing your human to work helps employee attraction and customer retention
(8:30) Why communicating a brand's values has to "get off the walls and into the halls"; in other words, from a framed set of platitudes to a select set of three or four values that are reflected by all it does and guideposts for marketing decisions.
(10:05) The imperative of speaking in a human voice across all mediums of communication and why defaulting to the technological end of the spectrum are not best practices during socially distanced times.
(12:00) How to start: tap all employees — and even companies — to gauge if values are resonating
(15:20) Why even with the ability to connect these days through Zooms or Teams, it's still best practices to "mind your meetings" and not be beholden to "business as usual" for the sake of having a meeting.
(16:30) A refresher on the "three Ps": purpose, presence and protocols.
(18:25) Finally, Keswin, who will detail this is a forthcoming book, explains why a company needs to have rituals – like a "corporate habit" with a higher level of meaning — which employees can count on.