Podcast: Play in new window | Download (Duration: 21:10 — 29.1MB) | Embed
Subscribe or Follow Google Podcasts | Spotify | Android | Pandora | iHeartRadio | Stitcher | TuneIn | Deezer | RSS | More
This episode is made up of two discussions about podcasting: A casual conversation with RAIN News president, Brad Hill around fun moments from the industry and projections for its success… and a more formal discussion — actually a few segments grabbed from RAIN's Global Podcast Leadership Summit.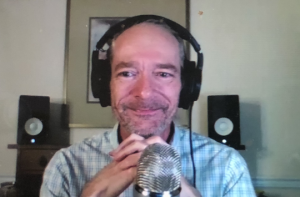 Insider Interviews host, E.B. Moss was the moderator on a panel about podcast advertising, featuring Art19's Lex Friedman and Targetspot's Dave Sosson — and a few of their insights were captured here.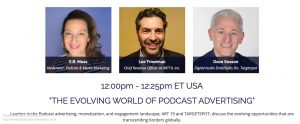 You'll learn how the summit had to pivot — and lessons for good zooming — as well as:
the kinds of media categories that podcasters are selling against — think paid social — and how they compare;
how host read ads are great, but how do they fit in to a targeted buy 
Interesting projections from the IAB and the new categories opening up for — and of — podcast advertisers
SHOULD there be a "PAB" 
And what is "giide"?
NOTE: Read RainNews.com to catch more takeaways from all the 8 sessions of the recent summit.
And ask E.B. about using giide.fm for your media company!