Podcast: Play in new window | Download (Duration: 31:28 — 43.7MB) | Embed
Subscribe or Follow Google Podcasts | Spotify | Android | Pandora | iHeartRadio | Stitcher | TuneIn | Deezer | RSS | More
Tom Webster, SVP of Edison Research, describes his job as "telling the stories of numbers." He definitely make numbers come alive, and he's a great storyteller overall. So you're generally okay with Tom as your guest if you didn't discuss podcast topics in advance.
My industry acquaintance may be self-effacing, but he has a steel trap mind for the insights Edison regularly uncovers about all things audio, and he shared quite a few in our ad hoc but fascinating conversation for  Insider Interviews.
The custom market research company helmed by Larry Rosin may be best known as the sole providers of exit polling data during U.S. elections, but Tom is best known for his big research reveals on webinars (now Zoom presentations) or at conferences. Research junkies lean in to hear which platform has the biggest "share of ear" and how differently are consumers engaging with Alexa. Basically, he's the go-to guy for sharing and interpreting our evolving involvement with radio, podcasting, voice…even IoT and our social media habits.
As Tom describes it, "I make sure that the data that we collect on behalf of our clients is understood contextualized, put into action and valued, and that people come back for more." Here's what's "more" about Tom and a topline of our discussion: Little known fact? Tom likes words as well as numbers. This former English Lit professor is also the principal author of some widely cited studies and the co-author of The Infinite Dial, America's longest-running research series on digital media consumption, and The Mobile Commerce Revolution.
In Episode 16, Tom shares some insider scoop from Edison's audio research – and his considered POV on the current state of radio broadcasting and the growth of podcasting (including some tips that can help you grow your own podcast).
[00:01 – 03:25] Opening Segment
More about Tom Webster, his role in Edison Research and a moving from academia to a marketing career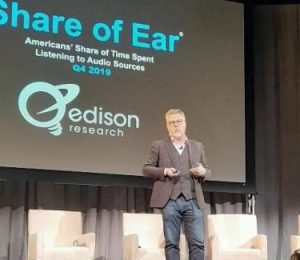 [03:26 – 17:20] The Insider Scoop on Audio Research
About Edison Research's broader offerings – like that exit poll and vote count data – and Tom's area of focus: Audio
More insider scoop from Tom WebsterVoice vs. Audio

The growth of "smart speakers."
Where are we – if anywhere — with an FM chip for mobile phones?
The general state of radio
The uptake on podcasting (Joe Rogan notwithstanding)

Tom talks about some Edison partnerships (and E.B. held back "insider" jokes about her old boss, John Rosso of Triton Digital!)
[17:21 – 25:40] Diverse Voices
The diversity in podcast listeners and podcast content
Growing your podcast in today's competitive market:

Having a distinct voice
Showing your unique, distinct point of view

How Tom is sharing HIS unique POV, via his own newsletter I Hear Things
[25:41 – 31:27] Closing Segment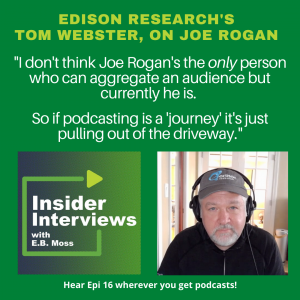 Tom's go-to resource gathering platforms
The Tom and Tamsen team: "freenoting"with his wife, Tamsen Webster
Final thoughts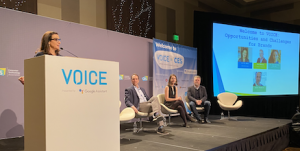 E.B. and Tom on the first (last?) VOICE panel at CES 1/20
Resources Mentioned:
You can connect with Tom on LinkedIn and Twitter. Subscribe to his I Hear Things newsletter. Listen to The Freenoter with Tom Webster and Tamsen Webster.
Follow Edison Research on Twitter, LinkedIn, Facebook, and Instagram. You can also visit their website https://www.edisonresearch.com/
Please share the podcast if you liked this episode, and Follow Insider Interviews on Twitter, Instagram, and Facebook.
And reach out to be considered for an episode — or suggest questions or a guest — or to have your own bespoke podcast series produced and/or hosted by E.B. Moss, please reach out at podcasts@mossappeal.com. I'm "hear" for you!