Podcast: Play in new window | Download (Duration: 38:03 — 52.7MB) | Embed
Subscribe or Follow Google Podcasts | Spotify | Android | Pandora | iHeartRadio | Stitcher | TuneIn | Deezer | RSS | More
When David Cohen joined the IAB as President, the US was two weeks into stay-at-home mandates. While that may have curtailed in-person conferences the industry association is known for, it upped the focus on all things digital. Not long after, the ante was also upped for Cohen personally when he was named CEO following the 14 year run of Randall Rothenberg. Pressure? Not to hear Cohen, who has helmed major agency divisions and had $20B in media spending under his purview during his days at MAGNA and UM. But pandemic-influenced strategy changes? Definitely.
In support of its mission to "empower the media and marketing industries to thrive in the digital economy" – let alone during a COVID economy — Cohen has "brought an unprecedented number of industry captains into their leadership councils and transformed the timeliness of their strategic initiatives."
Those words from Rothenberg's commendation of Cohen on his promotion sparked a song from me. Of course. No one is safe. But that didn't curtail a compelling conversation about more serious matters, such as Cohen telling me about the advantages that came with adapting to the digital world as early as the 90's and how he – and the IAB overall – are continuing to innovate with today's current technologies for marketers. I also put Cohen in the same hot seat he put recent panelists in when moderating a Reach Conference talk himself, asking what he would most like to see fixed in our current digital eco-sphere.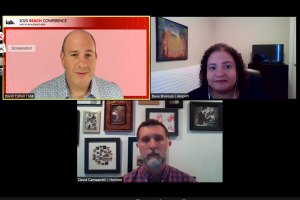 We also discuss:
Cohen's A-ha! Moment – from the Yellow Pages!
The lessons he learned after joining the IAB family that every marketing agency should know
"Pulse studies" on changes in consumer consumption trends to media buyers/seller polls
The IAB's Brand Disruption Summit
How to navigate through your Brand and Demand goals
The shift in how digital engagement is being accomplished
How IAB is helping in pushing cross-platform forward
Like his friend and recent Insider Interviews guest, Carl Fremont, Cohen has a pro-social personal mission. Hear how he — and ANA's Bill Tucker — are helping push support of disadvantaged children.
Resources Mentioned:
Social Media Links:
Insider Interviews is on Twitter, Instagram, and Facebook.
Please share the podcast and share how smart you are about media, marketing and advertising! To reach out to be considered for an episode or suggest questions or a guest — or to have your own bespoke podcast series produced and/or hosted by E.B. Moss — email podcasts@mossappeal.com. We're "hear" for you!