Podcast: Play in new window | Download (Duration: 32:09 — 44.1MB) | Embed
Subscribe or Follow Google Podcasts | Spotify | Android | Pandora | iHeartRadio | Stitcher | TuneIn | Deezer | RSS | More
For Episode 21 I spoke with someone who's been an animated head more times than he can probably count: Paul Hanges is CEO of JibJab, which is famous for its personalized e-cards and satire animations that lets your head be the star! If you haven't heard of JibJab you may have had YOUR head in the sand; they're the OG of digital branded content. It was born in 1999 to brothers Evan and Gregg Spiridellis, perhaps best recalled from their 2004 glory days of being featured on everything from The Tonight Show to ABC News for then viral political satire, "This Land."
Hanges, who was promoted from COO 18 months ago, says they're proud of being dubbed the "original online cockroach" for their longevity and survival of dot-com and economy busts. In our conversation he explains why JibJab is still hot more than 20 years since its inception. They're even having something of a renaissance with the resurrection of their trademark Year in Review video after a six-year pause. (But how could you NOT do a recap of a year like 2020? For Chief Creative Officer Mauro Gatti and lyricist Scott Emmons it probably almost wrote itself! And I'm proud to offer my big head/floppy jaw cut here for your amusement by way of example!)
Hanges also explains the appeal of low-tech animation and their trademark "big heads and floppy jaws," how they survive as a subscription model and why they walk away from brand dollars if not aligned with their mission – "to make billions of people happy by allowing them to be funny, wherever they're having that conversation."
Here are the highlights – but do hear all Hanges has to say in this very "animated" conversation:
How it all started – yes in the proverbial garage
Why, in a world of "deep fakes and augmentation" the appeal of JibJab is the personalization and NOT to replace reality. "We want to provide utility to help people say happy birthday or anniversary or other big moments."
How personal micro networks add up to eyeballs at scale – and 1.3 million paying subscribers;
How they'll leverage the rights to hits like "Old Town" or Mamma Mia the musical, but why they'll walk away from 95% ofbranded opportunities;
Why politics and JibJab do not always make good bedfellows, but why they participated in the Facebook ad boycott in July to stand up to divisiveness;
How (self-plug here) they balance "brand+demand," — as we promote in The Continuum;
The big data opportunity they're sitting on to be a personalized service for people and how they've had to be nimble and "pivot" in their production and platform access.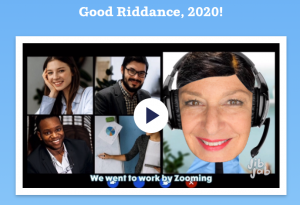 And of course, for the last episode of 2020 we have to offer Hanges' words of wisdom from the past full year as CEO to other new CEOs…and how to embrace your strengths and those of others as well. "I take a step back and look and say, 'we have a very strong operating team that's working towards a goal of making billions of people happy.' …And I've been really proud to say I can lead this company with that mission."
Personally, I could not have wrapped up my first year of Insider Interviews podcasts (AND my "It's Quite a Living" personal podcast) with a better message than to "head" into 2021 with the inspiration of a JibJab to find the humor and spread the joy throughout this holiday season and into 2021.
 Thank you all for listening and hopefully sharing this podcast. I value your feedback and support. And if I can help you create content that spreads joy or opens revenue doors please visit Moss Appeal or write to me at podcasts@mossappeal.com.
Happy New Year!