Podcast: Play in new window | Download (Duration: 43:10 — 59.7MB) | Embed
Subscribe or Follow Google Podcasts | Spotify | Android | Pandora | iHeartRadio | Stitcher | TuneIn | Deezer | RSS | More
A milestone! It's Episode 40 of Insider Interviews! And for that, who better to interview than Cadillac's Global Chief Marketing Officer, Melissa Grady Dias, who is, herself, marketing a milestone: the launch of what will be the first all electric line of luxury brand vehicles (EVs), starting with the Lyriq!
This episode was recorded in September, and since then the new Lyriq has sold out of pre-sale reservations. So how did it get so popular? Why is Cadillac "the maverick" of the GM brands, and how does its marketing deliver on its corporate parent's promise to be the most inclusive company in the world?
For the past two years, Melissa Grady Dias has held the key. She is a marketer's marketer, a master of math and of insight-driven creative. With a heart. That "brand and demand" combo (as I'll write more about in The Continuum) is what's helped infuse those corporate cause-oriented values into everything from gaming tie-ins to 6-second ads, to experiential marketing with Michelin-rated chefs. To hear Melissa be moved by the definition of equity and inclusion is to understand what "drives" (sorry) much of the brand messaging, but messaging that is always backed by data.
As she explains:
"I try to understand how and where my audience is consuming media, and how they're entertaining themselves. Then I try to be in those places, but to do it in a different way, so that it really breaks through."
While always in pursuit of an advertising career, ("I used to watch Who's the Boss and I loved Angela and I wanted to be like her," she confesses) Melissa almost took a wrong turn. But discovering Database, Direct, and e-Commerce studies in a Masters program led her to expertise in performance marketing and technology. Her passion for good creative added the rest of the fuel.
After discussing how she "followed her career north star to OnStar" we took some deep dives into how she is marketing the 125-year old brand, including:
What it means to "show up differently" and how the Cadillac marketing team approaches the funnel differently, too (hint: upside down!)
With GM looking to go all EV and towards a 0, 0, 0 world (zero emissions, zero crashes, and zero congestion) how Cadillac, historically an innovator brand, is at the forefront of that effort:
Just why Cadillac overall — from the Escalade to the XT6 — is like the maverick of GM brands, while still infused with corporate cause-oriented values.
"Cadillac is also a bit of a maverick and we've always stood for those people who really have big dreams and bold ambitions, but really they're the change-makers."
Melissa's reaction to CEO Mary Barra's statement on making GM one of the most inclusive companies in the world, and how they're doing that — on social, in a campaign or in how they're spending money;
"Equity is treating everyone the same and fairly. So if there's a dance everyone's invited to the dance. Inclusion is being asked to dance."
"When Regina King heard the brand manifesto, she could relate it to her story. And …it inspires me to be a better person, too. That's how the "Never Stop Arriving" campaign was born: it's about hitting a moment, celebrating yourself and then thinking 'Now, how do I keep making the world better? How am I going to keep moving forward?'"
How they identify prospects and find them, starting with addressable and digital then filling in as they go up the funnel, right to tentpole events like their Oscars™ or PGA sponsorships;
Melissa's perspective on audience demographics "I'm never saying, 'where are the 25-54 year olds with a certain income'" and feelings about linear TV to podcasts…even their innovative use of gaming and AR and VR as part of the sales process;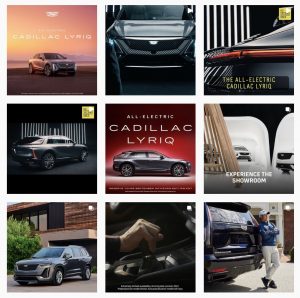 (Note – Take a look at Cadillac Live for a unique view of how vehicles can be experienced in our showroom and supply-chain challenged times! And fun fact: More test drives happen on YouTube than in a car dealership! So hear how Cadillac Live deployed a takeover with a "first" on the video site!)
Hear how data is handled and respected and leveraged;

How experiential comes to life in unexpected ways, like finding inspiration in the Lyriq grill for food recipes!;
How future CMOs can follow a similar path to success? Melissa shares a three-point plan of action which, of course, starts with follow your passion.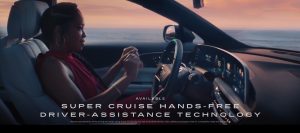 Finally, hear why my heart was pounding – as with most people who experience Super Cruise for the first time – but in my case just from watching their effective long-form celebrity videos about the hands-free driving option! Melissa has described this as the "let go" moment.
As voiced by Tiffany Haddish in the video, "Sometimes you gotta grab the wheel and sometimes you just have to let it go." It's trust that you'll get where you need to be. Melissa, who makes it a point to meditate daily, thinks her personal mantra – 'I'm exactly where I'm supposed to be' – "ties into that idea pretty well."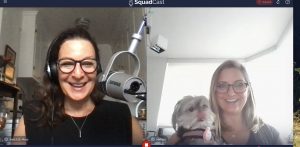 Easter Egg Moment: Insider Interviews aims to give you the "insider scoop" on media, marketing and advertising, along with the personal side of execs. And you'll catch a very human moment around 20 minutes in…. But do enjoy all 40 minutes of this informative and jam packed conversation!
If you found this helpful, feel free to help support ANOTHER 40 episodes of Insider Interviews and add to my virtual tip jar to "buy me a coffee": https://buymeacoffee.com/mossappeal
And please support us with a review wherever you listen, share this episode. Or allow me to help you get started with a podcast or content marketing strategy: podcasts@mossappeal.com.
Follow Cadillac:
Facebook: https://www.facebook.com/cadillac
Twitter: https://twitter.com/Cadillac
Connect with E.B. Moss and Insider Interviews at Moss Appeal and on:
Twitter:
 Instagram
Facebook: Insider Interviews Podcast
THANK YOU for listening!
E.B.