Podcast: Play in new window | Download (Duration: 7:48 — 11.2MB) | Embed
Subscribe or Follow Google Podcasts | Spotify | Android | Pandora | iHeartRadio | Stitcher | TuneIn | Deezer | RSS | More
For the past 44 episodes of Insider Interviews I've put a lot of well-known media and marketing folks in the hot seat …And today's guest is … E.B. Moss. Me. Because as we ring out the old and ring in the new I've got some news for you.
This nice round number, episode 45, will be temporarily one of the last for Insider Interviews for a while, as I embrace something really new. A fractional (year long) assignment as Senior Vice President of Content and Community at Brand Innovators. They create a community for marketers and and media folks through an incredible number of events and panel discussions, fireside chats, activations, tent poles, content articles, you name it.
In looking back to look forward, as I wrote in The Continuum recently, I had some wonderful conversations. After launching with programming pro, Gary Krantz, talking about audio and the evolution of radio and podcasting my very next episode was in March of 2020 was Shelly Palmer, the pundit, who accurately predicted that we all better have our tech set up well to work from home. Check.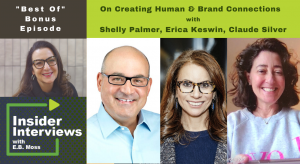 In episode 7, Claude Silver, the Chief Heart Officer of Vayner Media, emphasized the need in our increasingly isolated environment to build relationships. And then Arra Yerganian educated us in episode 22, about the social determinants of health as we're so impacted by our surroundings. (I hope you're creating a safe space for yourself and finding ways to bring joy into your world, even as we have to isolate a little bit longer now.)
On the DEI front Robyn Streisand, founder of The Mixx, is doing a terrific job at educating brands on how to embrace diverse communities and market authentically. And then, hats off to KoAnn Skrzyniarz, for building Sustainable Brands and emphasizing brand purpose and the business value of embracing sustainability and purpose-driven messaging.
Talk about influencers.

That's what Danielle Wiley of Sway did and really informed us about how to manage what's been influential and what hasn't. And it all kind comes together with Joe Jackman in episode 37, talking about reinvention. Because that's what we're all doing these days. Marc Kidd and Anna Bager each talked about the out of home ad industry and their headaches during a time when nobody was traveling. Captivate, where Marc is CEO, specialized in elevator advertising, and no one was going into office buildings! So they figured out how to pivot — or reinvent — by expanding their signage to places where people play and live like golf courses and apartment buildings. Anna Bager talked about how out of home signage really helped move public service messaging forward, especially with the healthcare messaging that is so important these days.
There were also some really impactful conversations with women in marketing. I want to thank, for example, Melissa Grady, the CMO of Cadillac, as well as Heidi Zak, the co-founder and CEO of third love, as just two examples.
And I was able to do articles on both of them for The Continuum. That's the publication where I was editor in chief for the past year. We published some excellent articles about the need for both brand and demand marketing. That publication will continue to embrace the future. And it's a very worthy read.
But I think as I look forward, and look back, some of Ruth Steven's words were exactly right and underscores why my move to Brand Innovators will be so timely. Ruth is one of the foremost experts in B2B marketing.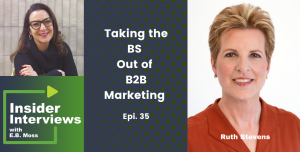 And she said in our interview,
"Today, the ability of the salesperson to guide a purchase in the buyer's direction and really understand the needs of that buyer has been eroded. So the marketer needs to step in and provide the educational content."
So my friends, I'm going to keep finding lots of ways to help marketers get their message out and to help connect the seller, the buyer, the media organization and the marketer, and I look forward to being able to continue delivering you that insider scoop. Just from a different venue.
With that, I wish you all the very, very best and a happy and especially a healthy 2022, and hope to maintain my relationship with all of you through various forms of content, as well as hopefully at in-person event sooner rather than later.
I thank you so much for listening.
Post Script: If you haven't heard it yet, I will pick up my "passion podcast" soon – about my "friends in high places" so please subscribe to It's Quite a Living now to not miss a forthcoming moment when that relaunches in early 2022.
PPS: You can STILL follow me at @mossappeal on social media!