Podcast: Play in new window | Download (Duration: 36:22 — 50.0MB) | Embed
Subscribe or Follow Google Podcasts | Spotify | Android | Pandora | iHeartRadio | Stitcher | TuneIn | Deezer | RSS | More
Podcast pro Steve Pratt, VP and Co-Founder of the multi-award winning Pacific Content, told me his company no longer makes branded podcasts. They haven't for a few years. They make "original podcasts with brands." And win awards doing it for brands like Ford Motor Company, Rocket Mortgage, Morgan Stanley, Slack, and Red Hat.
The difference?

These are no "thinly veiled infomercials. Instead, Pacific Content works together with their partners to "make a show that's designed as something that only that brand can make; you give a gift — or create a significant amount of value — for the people that the brand wants to have relationships with." And that, says Pratt, is how and why a brand makes a show that solves for their specific business problem, AND makes them into "media companies," too.
But don't forget about the marketing.

Good content that isn't salesy has to go hand in hand with good marketing that doesn't just try to "interrupt." So, excuse me (!), but marketers should listen to this informative conversation all about connecting the dots between business objectives and audience preferences via podcasting. Steve should know: his company of "50 passionate podcast nerds" is focused exclusively on original podcasts that promote brands with authenticity and without compromising quality.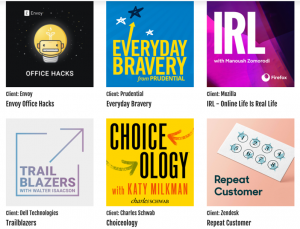 Steve and I also discuss:
How Dell Technologies' podcast, Trailblazers with Walter Isaacson, became a "masterclass" on disruption and innovation, and sold listeners on Dell without selling products (and you can hear Dell Global Marketer, Rachael Henke, talk about this in Epi 6 from 5/20!) 

Creating a branded podcast strategy like a Venn Diagram between business goals and listener interests

How podcasts drive loyalty

Opportunities for "brands as media companies"

Branded podcasts vs. Advertising in another podcast: What's the litmus test? (And when Steve suggests brands call Bart Roselli at VeritoneOne, per episode 41 on effective ad campaigns!)

Establishing marketing effectiveness in podcasting

Success measurement tactics and KPIs
And, since Pacific Content gives good content themselves, don't miss Steve's own musings on the future of podcasting, how he did on his 2021 predictions made in our friend James Cridland's show…and what he's projecting for 2022!
Please share the podcast,

and if you liked this episode, feel free to show support in my virtual tip jar at https://buymeacoffe.com/mossappeal — and please follow and engage with Insider Interviews on Twitter, Instagram, and Facebook.
Find/Follow Steve and Pacific Content at:
Reach out to be considered for an episode — or suggest questions or a guest — or to have your own bespoke podcast series produced and/or hosted by E.B. Moss.
Email us at podcasts@mossappeal.com.  We're "hear" for you!