Podcast: Play in new window | Download (Duration: 30:56 — 42.5MB) | Embed
Subscribe or Follow Google Podcasts | Spotify | Android | Pandora | iHeartRadio | Stitcher | TuneIn | Deezer | RSS | More
Marc Kidd, CEO of Captivate, lost sleep thinking about the lost foot traffic in office buildings when the pandemic hit. After all, his company specializes in programming the video screens in elevators. But, this son of famed NCAA football coach, Roy Kidd (as in Roy Kidd Stadium), is not one to panic at fourth down.  In our conversation for Epi 43 he shared how Captivate evolved its Digital Out of Home (DOOH) offerings to include home and play locations, with an upswing in results for sales and marketers alike.
"There was a high stakes game on a really bad weather day and I said, 'Dad, it's raining, the wind's blowing. What decision are you going to make about the coin toss?' He said, 'You don't worry about the things you can't control.' It has always reminded me that there are things in life you have no control over … like a pandemic."
Marc is not a stranger to having to pivot. Hear what happened when his college plans to work alongside his dad got waylaid… and he briefly considered accounting for a career! Luckily, he found his footing in sports marketing…then broadcasting, giving him the foundation for a storied career that included helping create the NCAA corporate partner program and the Breeders Cup's World Thoroughbred Championships, WAC corporate partner programs and iHigh.com.
Now at Captivate, he had some tough calls to make in the past two years for the greater good, but like all boats when the tide rises he ultimately helped the elevator advertising business stay the course through more innovation.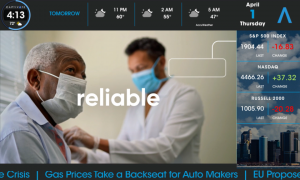 Listen and learn about:
How Captivate transfigured awkward social spaces!

The evolution of DOOH (Digital Out of Home) itself and its use in brand and awareness marketing

The guiding path to advertising effectiveness and strategizing content

QR codes and other ways of building real attribution

How COVID-19 disruption prompted forward-thinking repositioning

Captivate's 2022 plans, including re-engineered programmatic platforms

Staying in the game by evolving through crisis

CaptivateScan – a pandemic-inspired innovation for building lobbies

Why Marc can twirl a baton!…

Attribution Tactic Resources mentioned:

Social Media Links:

Please share the podcast if you liked this episode, and follow Insider Interviews on Twitter, Instagram, and Facebook. And to support more please add to my virtual tip jar!  https://www.buymeacoffee.com/mossappeal

You can also reach out to be considered for an episode — or suggest questions or a guest — or to have your own bespoke podcast series produced and/or hosted by E.B. Moss. Email us at podcasts@mossappeal.com. We're "hear" for you!