Podcast: Play in new window | Download (Duration: 36:44 — ) | Embed
Subscribe or Follow Google Podcasts | Spotify | Android | Pandora | iHeartRadio | Stitcher | TuneIn | Deezer | RSS | More
Just skim the career path of my first guest for Season 2 of Insider Interviews and you'll understand why it was worth the wait of my past year on hiatus: It's Jarl Mohn, former President and CEO of NPR…and E! Entertainment Television, the network he also created!
Jarl's career includes being hand-picked by former radio buddy, Bob Pittman (currently CEO of iHeart Media), to be the first EVP/GM of MTV and VH1. He also spent many years on the boards of The Annenberg School of Communication and Journalism, the EW Scripps Company and Scripps Networks, and KPCC Southern California Public Radio where he honed his love of public radio.
And, while Jarl hung up his pundit placard to focus on hanging art as he and his wife Pamela endow museums and support emerging artists, his 50+ years in media and venture capital have taught him a thing or two about content and management. He shares 35 minutes of brilliance and humility — from how his years in foster care sparked an escape route to radio, how quality will separate winners and losers in today's content wars, and how art can literally change the way we think.
We go head to, literally, toe on the big picture of media, right down to why his face is on my feet. Yeah, you'll have to keep listening for that one. Or watch the video on YouTube, since good content should span all platforms!
The following is a highly edited transcript, including a multitude of links to important resources mentioned.
Career Path – Radio to Television
E.B.: Jarl, you were my first boss in the cable industry.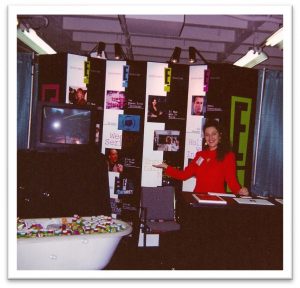 You started E! Entertainment Television and I was there in the Greg Kinnear and Howard Stern days. Can you share a little chronological route to your career?
Jarl: I began my career as a disc jockey when I was 15 years old. I ended up ultimately, in New York at WNBC doing afternoons when I was 25 then got into the programming side of the business, became a general manager and  bought some radio stations. Then one of the people I had worked with at WNBC, Bob Pittman, hired me, along with Tom Preston at MTV and VH1. So, I got into the cable TV business. Then in 1986 we created E! Entertainment Television. I did a stint with John Malone at Liberty Media as CEO of Liberty Digital, which was used to invest in internet companies and some interactive companies. Then venture capital /early stage angel investing for about 16 years.
And then I had been involved in public radio in Los Angeles as a board member of KPCC and had the opportunity to become CEO of NPR nationally, for about six years. I finished up my tour of duty in 2019 and returned to Los Angeles.
Radio as Escape from Foster Care
EB: You shared with me that you had been in a group home in foster care ….
Jarl: It was a very difficult thing to experience. I spend some time with foster youth and young adults in Los Angeles County now and have a chance to talk to a number of them. Almost every one, using different language, wants to know how we survived our PTSD or our trauma. …I hated my existence in that children's home so much that I discovered radio and listened to it nonstop and fantasized about being one of those cool disc jockeys. So, when I got out at 15, I had a chance to go to engineering school, get my FCC license and began working at a radio station.
EB: Radio is, of course we talk about it as theater of the mind. I just read an amazing memoir called A Place Called Home by David Ambroz, who actually works at Amazon now, and overcame similar challenges. You both remind us how we all need to support youth so much better and try to improve that world.
The Art of Listening
EB: Jarl, I knew you when you still used your DJ name, Lee Masters…I remember you would regularly walk the halls of E! Entertainment Television, chatting with every employee, every day. That meant the world to everyone I'm still part of the past-employee Facebook group. I even did an episode last season of Insider Interviews with Darren G. Davis who was our department coordinator then and now runs a very successful comic book company called Tidal Wave! So, you really created another family for us.
Jarl: At every company I worked at I found I learned a lot more about what was happening in the company by just walking and asking, 'what are you working on? What are you getting the biggest kick out of? What are the challenges? And in doing that every day, cumulatively I think it informed me, really helped me do my job better, and it was also a great deal of fun.
EB: You continued that walk the hall approach, but you did it from the skies and the road. Tell us about visiting NPR stations.
Jarl: One of my good friends is also a pilot, and suggested we fly to small NPR stations that no one from corporate had ever visited. We hit 15, 17 stations and got to meet donors and listeners and the station employees and have some great local food. Then I drove from Washington, DC. to Los Angeles and I visited another 20 or more radio stations.
AM/FM Either/Both/Or Public Radio?
EB: A lot of the EV industry folks are saying that AM radio creates interference with electric cars. Are we facing the demise of AM radio?
Jarl: When I made the transition to from AM to FM radio in 1974 if you had asked me the prognosis then I would've said everybody had completely written off AM radio at that time. But since then, even recently, there are a number of markets, like Atlanta, where the number one radio station is WSB, an AM radio station. And there are a handful of others. They're successful because they're offering something not available anywhere else — whether it's the Atlanta Braves or a morning personality. [Hear Jarl's advice on radio programming back in the day.]
But I do think the radio business itself is very, very challenged overall. A lot of it, is self-inflicted wounds, from having commercial loads that are too high, to being very repetitive, and so forth. One of the reasons I love public radio is that it's providing … news analysis, really audio essays on what's going on and explaining what's happened, providing background, some context and storytelling — something different.
I think a lot of the music formats are under siege from Spotify and from satellite radio. The problem is if a lot of people are deserting the broadcast band because of music, your pool of available listeners for an NPR station starts to decline, too. But I think they're going to hang in a lot longer than anybody else.
EB: You became a member of all 251 NPR stations and got a mug from each one, which are as proudly displayed in your home as your renown art collection!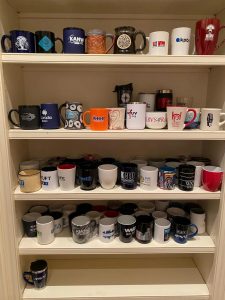 Now, Pierre Bouvard, head of research over at Cumulus Westwood One, points out the big difference in perception and reality about radio since some 86% of US adults still listen to radio regularly.  
Programming Pivot to Survive?
E.B.: Where you would advise media companies in general on how they need to pivot?
Jarl: What's happening in the streaming world are these incredible budgets of six, seven, 12 billion a year per company — the economics right now don't look like they're working. However, a lot of people seem to enjoy using them. And one of the number one topics of conversations: "What are you watching?" And everybody's exchanging their lists: "did you see Kaleidoscope on Netflix? Or Slow Horses…? A lot of people are looking at content. The challenge, of course, is how many of these services can you subscribe to?
I believe, regardless of the medium — audio or visual, broadcast radio or podcast, a cable network or on demand, whatever your format or platform, the quality and the differentiation and the uniqueness of what you're producing is hugely important.
How do you make people aware of what's available?  Really focus on the, the quality of what you're producing, to make it as interesting and mouthwatering as possible. Good content wins. It's very expensive to do. That's why only a few people can do it. (I would also add that I'm not in the trenches every day dealing with this inside a media company like I was when I was. I view it as someone that is kind of close, but not, not in the center anymore.)
Good Content from Diverse Voices
EB: What do you think are the number one or two action steps that any media company or service can really do to help forward DEI and legitimize its brand purpose? 
Jarl: I think it's a hugely important topic for everybody, not just media companies. It's an issue for museums, for example, which are questioning this historical perspective on white European males in their collection. It's a huge issue in the art world; the museums aren't making as much progress as the art world and the galleries are. Some of the new contemporary museums are doing a much better job of doing exhibitions from women and people of color.
I'm not an expert on this, but I think there's been progress. I think one of the big challenges for every organization has been limited number of people with background or expertise in any particular field, whether it's broadcast or whether it's the museum world. And there's a huge amount of demand for  people of color in some of these roles. My personal experience at NPR was bringing people in who were terrific, with a great sensibility, intelligence, doing great work. Now, NPRs a not-for-profit and very quickly somebody comes in and snags them. We'd bring them in, train them in our ways and our sound. And in 18 months or two years, they were off to a much bigger paycheck, which was great for them. But, then you're back to square one to fill this position. [Hear Insider Interviews Epi 15 with NPR CMO Michael Smith on this topic.]
The Art of Giving
E.B.: You've been working to amplify the voices of diverse artists. Can you explain the LAND grants you and your wife, Pamela, have bequeathed?
Jarl: We've had the family foundation for 25 years and to have more impact, decided to write fewer checks, but write bigger checks and really get behind projects we really believe in. I'd say 85% of what we do is LA County-based, where we live and it's around social justice. There are a lot of issues and problems here, but there are also some beautiful things and some beautiful opportunities.
I was chair of the A C L U Southern California for 13 years so that's a big one. We really believe in civil liberties and the rights of people that really don't have the kind of representation that they should. We're in the early stages of figuring out how we're going to work with foster youth, because of my background. …especially on transition age youths, which is 18 to 24, because a lot of the system ends for them when they get out of high school.
And the arts are really important to me. The Mohn LAND grants is something we just announced with LA Nomadic Division, which does public art. We're going to do 20 grants over the next five years for emerging artists who have not had any major institution or gallery representation, and who live and work in LA. They'll create works that will be in their neighborhoods, publicly available, not in a gallery, that will speak to the people in the issues of that community.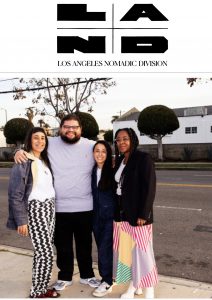 We also have been involved for 11 years with the Hammer Museum's Made in LA exhibition and the Mohn Award for LA emerging artists or under-recognized LA artists. another public not-for-profit space called LAX Art, and of course public radio.
The Art of Creativity
I find art really inspiring and I encourage anybody, regardless of how they feel about it, to try to spend some time with it because it opens up different neural pathways.
Jarl: I always have found if I'm stuck creatively on something, that if I go to a museum and I look at art. I don't look at a piece of art and go, oh, that makes me think of this, it just, it frees up my mind. I think art is beautiful that way And I'm not just talking about the visual arts. I'm talking about film, music, dance. There are beautiful things happening in culture everywhere.
Also, if I'm really stuck, I like to go look at art that I don't like, that I don't understand, that the critics have said great things about, but for whatever reason, doesn't appeal to me. Because what is it that the people that are far better educated than I am on this subject see in it that I don't see in it? I find it opens up my mind. If not at that moment it does later. So, my pro tip, for anybody that is in anything creative or has to do problem solving, go to museums regularly and look at stuff and go out of your way to look at things that you might not like.
EB: Well, I think that you also answered one of the rationales for why we need more inclusion and more voices in media, just to bring it full circle, because looking at something that you're not used to or that doesn't necessarily resonate with, you could illuminate new ideas as it amplifies fresh voices.
I promised that we would bring it from the head to the toes and just to pay that off, tell everyone why I'm wearing your face on my feet!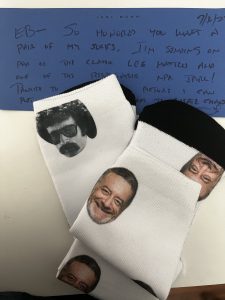 Jarl: I don't want anybody to think I actually had socks made with my face on them. Apparently, they the NPR staff was going to wear these socks for my going away party, but they didn't arrive until after I had left. So, they were just sitting there. So instead of throwing them out I put it up on Instagram and Facebook and told anybody, if you want a pair let me know. And they went very quickly. I was really surprised, like, who in the world is gonna want these? But it's just goofy enough that people loved it.
EB: And that turned into "Socktober" like a where's Waldo and Elf on a shelf meme for a while.
I want to end with a quote from an "All Things Considered" NPR story about happiness.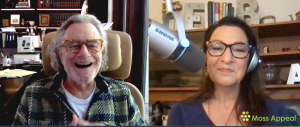 It said that "if people could change one thing in their lives to be happier, what does the data say? They should choose, they should invest in their relationships with other people."
So, Jarl, I'd like to say that you've made me very happy for joining me and for raising the bar on being a very "humanized" exec who's made so many people happy.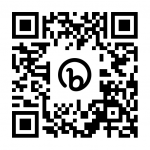 Please share the podcast if you liked this episode, and follow Insider Interviews on Twitter, Instagram, and Facebook. And to support more please add to my virtual tip jar!  https://www.buymeacoffee.com/mossappeal
You can also reach out to be considered for an episode — or suggest questions or a guest — or to have your own bespoke podcast series produced and/or hosted by E.B. Moss. Email us at podcasts@mossappeal.com. We're "hear" for you!