Podcast: Play in new window | Download (Duration: 42:14 — 58.5MB) | Embed
Subscribe or Follow Google Podcasts | Spotify | Android | Pandora | iHeartRadio | Stitcher | TuneIn | Deezer | RSS | More
Can branded entertainment be "bingeable?" If it's engaging and the characters are relatable!
What if no one watches? They will if that branded content is made — then promoted — by Leap Media.
That's what I learned from speaking with Chris Pizzurro, Co-Founder and Principal of Leap Media Group, and Michele Fino, Head of Branded Entertainment at Crackle.
Here's how they do it:
Chris Pizzurro has had an award-winning career in media, including a dozen years at Turner Broadcasting where he was involved in an early-stage form of branded entertainment. (And, he shared some great stories about working with Ted Turner at TBS!)
"We were actually doing branded entertainment in the 2000s with TBS's Dinner and a Movie."  — Chris Pizzurro
For the next dozen years, he was SVP at ad tech services company, Canoe Ventures, which really advanced digital ad insertion, scoring an Emmy® Award and inclusion on five patents while there.
From that background, Chris realized that "Clients are willing to pay extra to have their brand associated with entertainment, whether it's in a movie or adjacent to one." He's applying that insight now at Leap Media Group, delivering a brand of their own: the "LFBE" – Long-Form Branded Engagement. Chris describes these "as a subset of branded entertainment and shoppable TV".
"In long-form brand engagement, it's about involving brands from the outset, creating narratives around them, and incorporating calls to action for tangible ROI." — Chris Pizzurro
In addition to making branded entertainment that is good quality content, Leap's point of differentiation is putting equal focus on the distribution and promotion of that content to drive awareness, viewership and ROAS — Return on Ad Spend — from tune-in ads on Crackle to host-reads in Peter Greenberg's radio and podcast show, Eye on Travel.  After all, even if a show is well-made, if no one sees it — like "a tree falling in the woods making no sound" — it doesn't matter how good it is. So, as he has written, "We just don't buy ad inventory on FAST Channels and make shows that are on FAST Channels, we're ON shows that are on FAST Channels."
Leap's shows, created in conjunction with major brands and production companies, include "The Next Turn" from Expedia, "Bigger Bolder Baking" with chef Gemma Stafford, VRBO-sponsored "Cabin Culture" and more.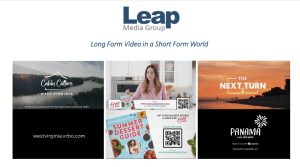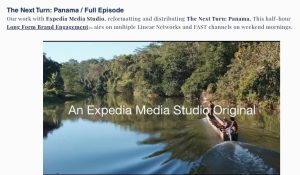 Chris is joined in the second half of this fun and informative 40-minute episode by Crackle's, Michele Fino, who brings her own wealth of experience in creating and promoting quality content – from her time helming branded entertainment at a global production company (hint: she can drop the Ryan Seacrest name!), content strategy at a national retailer and marketing at various highly regarded non-profits. She's crystal clear that: branded entertainment, it's not just about the content; it's about creating an experience that extends beyond the show."
"Entertainment is the top of the marketing funnel. It's about creating experiences that live beyond the show, extending the brand's presence organically." — Michele Fino
Michele explained all the industry acronyms like AVOD, TVOD, CTV, and FAST. She talked about the value of long-form branded content and Crackle's role in distributing and promoting shows. But she absolutely emphasized the importance of creating entertaining content that also provides brand messaging.
Together, they discussed strategies for ensuring branded entertainment and ads work together, helping brands defray production costs and boost value. She cited the example of featuring DoorDash as a hero brand into their original program, Going From Broke.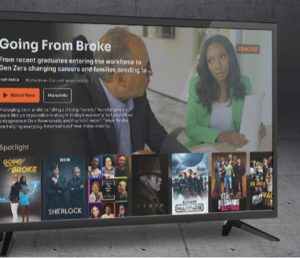 As always, my guests shared excellent points about personal and brand purpose: Per Michele — apropos Crackle now being part of the socially conscious company, Chicken Soup for the Soul Entertainment, companies can easily just incorporate social messaging subtly into a production in a "purple" kind of way. For example, showing cooking shows using a compost bin or wedding shows including LGBTQ+ couples. E.g.:
"In every show where they gift somebody a home, there should be a moment where the person uses their new address to register to vote."  
For his part, Chris is a believer in trust and transparency as the hallmark of leaders, and of Leap.
TIME CODES
[00:0:020] Sort of like an "EGOT" winner: Meet Chris Pizzurro, Principal/Co-Founder Leap Media Group
[02:05] Chris' award-worthy career in media and the evolution of branded entertainment.
[00:04:04] From "burned in" ads at Turner to digitally inserted ads at Canoe Ventures
[00:06:01] How LEAP creates "LFBE"s
[00:07:22] – Applying lessons learned from Ted Turner — "Mr. Turner, why did you buy MGM?"
[00:10:11] Meet Crackle's Michele Fino, who explains many acronyms AND "is it branded content or branded entertainment?"
[00:12:30] FAST facts – and Redbox realities (and an idea for McDonald's Tariq Hassan!)
[00:20:11] Tune-in campaigns and trailers.
[00:22:41] Buying, selling, producing, distributing.
[00:25:21] Great characters and storytelling.
[00:29:30] Budgeting for branded shows.
[00:37:30] Positive reflection in TV shows.
[00:40:23] Trust and transparency drives business relationships.
Crackle: https://www.linkedin.com/company/crackle/
X: @crackle_TV
Engage with Insider Interviews:
Instagram: https://www.instagram.com/insiderinterviews
Facebook: https://www.facebook.com/InsiderInterviewsPodcast/
YouTube: https://bit.ly/InsiderInterviews-YouTubePlaylist
"X": https://www.twitter.com/insiderintervws
(And find E.B. on Threads as @mossappeal)